Description
Brand New Closed Loop Extractor,Extractor Pressurized Extractor Kit Used to Extract from Plant Leaves Stainless Steel Vacuum Chamber/Tube 90 Gram with Tripod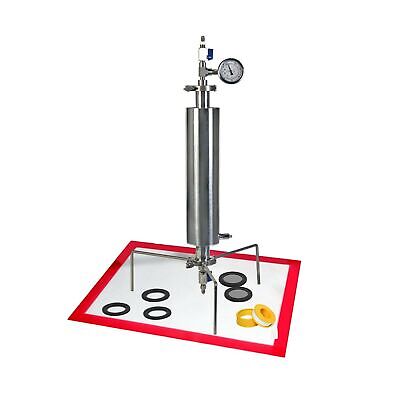 Manufacturer model: HNZXIB003
Sufficient capacity: 90g capacity (volume after compressing the material) double-layer stainless steel tube.
Upgrade configuration: This product has upgraded the valve, using food-grade stainless steel ball valve, which is more robust and pressure resistant. An additional vacuum gauge is convenient for you to observe the vacuum degree of the reaction. The upgraded detachable tripod bracket is convenient for you to adopt any fixing method.
Additional accessories: We provide additional 2*150 micron filter, 3* gasket, 1* sealing tape, 1* silicone pad for this vacuum chamber kit. I don't want my users to worry about the purchase of these small accessories.
Material: 304 food grade stainless steel, easy to clean and easy to make, and will never pollute the raw materials.
Warranty policy: 1 year warranty, excluding gaskets, filters and other accessories. Believe me, no matter what product problems arise, we will try our best to solve them for you.
Description
Product list:
Stainless steel tripod x 1
Stainless steel ball valve X 2
90 g capacity vacuum tube X 1
Gasket with stainless steel screen (150 microns) X 2
Ordinary gasket X3
Tips:
Closed extractor for vacuum impregnation of plants for extraction purposes.
Use only in a well-ventilated place, away from heat sources. Non-professionals do not use 304 stainless steel indoors. The inner and outer mirrors are polished, strong and easy to clean.
This product can be used for about 90 grams of material
Viton seal with 150 micron filter
Shipping and Handling

Please allow 5-7 business days for the package to arrive, regardless of buyer location within the US.

We will provide an online tracking number to you once the item has been shipped.

It may take a few business days for our automated system to process the tracking number onto eBay. However, this will not affect the shipping times.

Return Policy

All our products are brand new and sealed. All items qualify for returns within 30 days of receipt.

Feedback

We take our reputation seriously. If you have any questions or concerns, please contact us and we will respond back to your message within 24 hours.