Description

table {margin: auto}
INTSUPERMAI®
0.9Cu ft Drying Oven
Digital Vacuum Drying Oven 133Pa Digital 1000W Power Lab Furnace
Equipment Desktop Vacuum Dryed Oven 110V
This device is used for drying
and heating processes under vacuum conditions at laboratories in
enterprises, schools and scientific institutions. Heating and drying
under vacuum condition shows the following advantages:

a. Drying temperature can be lowered. (Low pressure and low
temperature).

b. Oxidation of some articles after heating can be avoided with no
damages done by dust.

c. Slaughter of biological cells caused by heated air can be avoided.
Pls
note!It's need to connect the vacuum pump.Pipe is included in the
package. Pump not included. If you need the vacuum pump, please contact
us.
And we
could supply stainless steel bracket,pls contact us if you need.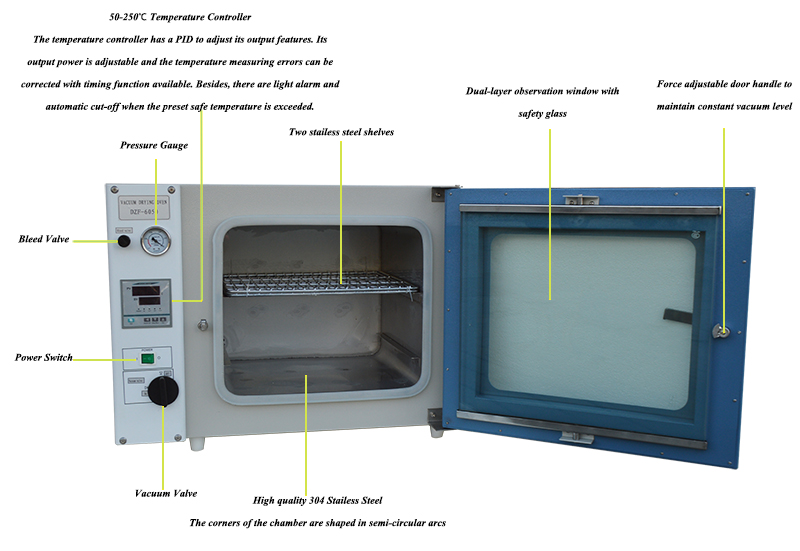 Parameter
s
| | |
| --- | --- |
| Voltage | 110V/60Hz |
| Power | 1000W |
| Temperature range | 50~250℃ |
| Temperature fluctuation | ±1℃ |
| Vacuum degree | <133Pa |
| Dwelling timer range | 1-9999 minutes |
| Chamber dimensions | 12x11x11″ /30.5*28*28cm(WxDxH) |
| Shipping dimensions | 27*22*22″/68.6*55.9*55.9cm(WxDxH) |
| The quantity of the shelves | 2 |
| Unit weight | 58kg/128Lbs |

Details

Features
The oven is are composed of 4
parts, namely, the oven housing, chamber (working chamber),
vacuuming system and temp-controlling system.
 

The temperature controller
has a PID to adjust its output features. Its output power is
adjustable and the temperature measuring errors can be corrected
with timing function available. Besides,there are light alarm and
automatic cut-off when the preset safe temperature is exceeded.
 

The housing is made of
high-quality thin sheets with a plastic-jet surface, presenting a
colorful appearance. The chamber is made of galvanized steel board
or stainless steel boards.
 

Easy-to-clean heavy duty 304
stainless steel interior for exceptional durability and ease of
maintenance.
 

Force adjustable door handle
and one-piece door sealing gasket maintain consistent vacuum level.
 

Dual layer observation window
with tempered safety glass.

Usage
Item
Included
1 Set of 0.9 Cu Ft Vacuum Drying
Oven Machine 160450
---
On Nov-25-21 at 18:15:32 PST, seller added the following information:
.dc_tracker_img{display:none;}.dc_tracker_img:last-of-type{display:block;}p:empty+hr{display:none;}hr+span.ebay,hr+*>span.ebay{display:none;}